Cuisine
Calabria forms the "toe" of the Italian Peninsula. The region covers 15,080 km² (5,822 sq mi) and has a population of just over 2 million. Most of the region is mountainous, with a coastline alternating between rugged cliffs and sandy beaches. Calabris is surrounded the Tyrrhenian Sea, the Ionian Sea, the Gulf of Taranto and the Straits of Messina (which separates it from Sicily).
A number of Calabrian dialects are spoken by a large patr of the population. The northern dialects are variants of the Neapolitan language, while the central and southern ones are closely related to Sicilian. In addition, there is a significant Calabrian version of the Griko language (the Greek of southern Italy) and pockets of Occitan (the traditional language of southern France) around Guardia Piemontese, as well as Arbëresh (a dialect of the Albanian language) in the north-east around Vaccarizzo Albanese.
Most of the tourist attractions are located along the coast, with a particularly high concentration at the southern extremity, between Catanzaro (the regional capital) and Reggio Calabria (the largest city). Highlights of Calabria include the scenic seaside resort of Tropea and the abandoned mountain village of Pentedattilo inside the Aspromonte National Park.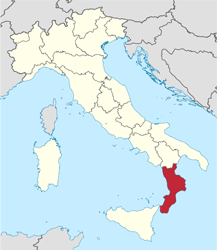 Calabrian cuisine reflects its geography. The high, rocky cliffs of its coastline have kept most of the population inland, giving greater emphasis on vegetables and meats, chiefly pork, and more occasionally lamb, mutton and goat. That won't prevent fish and seafood from ending in your plate once in a while, especially swordfish, cod, sardines, shrimps, lobster, sea urchin and squid.
Pasta is the main Calabrian staple. It is typically eggless pasta, made only with durum wheat flour and water. The most common are spaghetti and maccheroni, though regional shapes also exist, like lagane (similar to fettuccine), cannarozzi (big, furrowed maccheroni), schiaffoni (aka schiaffettoni, large, wide and flattened maccheroni, typically filled with ragù), cappelli di prete (priest's hairs), and ricci di donna (lady's curls). Bread is the other main starchy food. It comes mostly in the shape of Greek-style pita bread like focaccia.
Aubergines, tomatoes, artichokes, peppers, onions, asparagus, potatoes, fava beans, chick peas, and mushrooms are all central to the Calabrian diet. The famous red onion of Tropea (cipolla rossa di Tropea) is a variety typical of Calabria that is stronger, sweeter and juicier than other red onions and particularly well suited for jams. About 12% of all Italian olive oil is produced in Calabria, a percentage only surpassed by Apulia. The region is also renowned for its grapes, almonds, figs, and above all bergamot oranges, a variety grown almost exclusively in Calabria.
The fickle Calabrian climate and high humidity have traditionally made the region more vulnerable to crop failure or food moulding. This prompted locals to preserve their food through salting, curing, oiling and smoking. Among them, let's note the soppressata (cured dry sausage), pancetta (salt cured pork belly), spicy sausages like 'nduja (derived from the French andouille) and capicola, and baccalà (dried cod).
Calabrian culinary specialties include alalunga in agrodolce (slice of tuna in sweet vinegar and onion sauce), lagane e cicciari (lagane with chickpeas, garlic, and oil), murseddu (aka mursiello, tripe, calf's liver and pork liver cooked with tomatoes, peppers, and red wine), perciatelli e lumache (long tubular pasta with snails in a tomato sauce), rigatoni alla pastora (with sausage, ricotta, grated pecorino, chilly pepper and basil), and sagna chine (lasagna with meatballs, hard-boiled eggs, artichokes, mozzarella, Parmesan, mushrooms, etc.).
Owing to its mountainous terrain, Calabria is a relatively small wine region, producing only 750,000 hl annually. 90% of Calabrian wines are red, and the vast majority are table wines. The region has 12 DOC quality labels, but no DOCG. The oldest and most famous DOC is Cirò, a very tannic and full bodied red wine produced with the Gaglioppo grapes in the eastern foothills of the La Sila region.